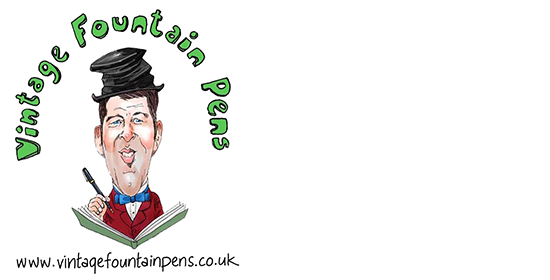 We have received many complimentary comments from our customers, here are just a few of the most recent;
31/8/21
Dear Mark,
Just really to say thank you.
I've now purchased 3 fountain pens from you, with a fourth on the way. All 3 that I've received, have exceeded expectation & are even better than described on the website. The website is brilliant, the shopping experience is fantastic, split into various sections, it enabled me to go straight to what I was looking for, without unnecessary scrolling, possibly missing the pen that I was looking for.
The writing samples for each pen can be blown up, very much informing my purchasing decisions.
There is lots of other valuable information on the website, not least advice on how to use the various filling systems found on different fountain pens, and importantly in an easily digestible form. Lots of other good stuff too.
Your after sales service has been first rate.
In conclusion, Vintage Fountain Pens, is the only online presence/website from which I'll buy any future vintage fountain pens & I do already have my eye on one………….
With every good wish & thank you once again.
Warmest
Derek

14/5/21
Hi Mark. I just wanted to thank you for servicing my Parker 51 and returning it in great shape. It's so nice to have that working again and to actually enjoy writing with it. The thing I like the most is handing it to my customers to fill in booking forms for my own servicing business and to get a great reaction that normally goes along the lines of ... "Oh ... it's a long time since I used a pen like this ... isn't it lovely!" It always makes me smile. Keep up the good work and thanks again.
RB
12/05/21
Hi Mark, My 1950's Pelikan 400 arrived this morning. It is absolutely stunning. My first true vintage pen, and without doubt the nicest pen I own. I just wanted to take a minute to thank you.
The professionalism and quality of service from you is absolutely wonderful and second to none. The description of the pen on your website doesn't do it justice. The service from yourself and the advice when I phoned you last week was outstanding and didn't differ in any way whether I was buying a £35 Rotring or a £200 Pelikan.
Again, Thank you and I very much look forward to refilling my "pen fund" to buy another pen from you.
Kind regards,
IM
14/04/21
Mark,I wanted to say how much I am enjoying all of my new pens.
I have just ordered some smart new stationary cards and envelopes and am trying not to use my rollerballs for work notes (usually on the back of scraps of paper, my main 'work' and my best way to think!). Also I now have three pots of rather handsome Edelstein ink on my desk, so am all set up! After my initial experiences the pens are all running smoothly and working well.
So thank you for your recommendations and for putting together such an excellent, informative and reliable, website. I must have recommended at least 5 or 6 people already, so I hope some more business comes your way.
Hopefully, I wont be back in the pen market for some time (given I now have four fountain pens and a couple of vintage ball points…apart from presents!), but who knows.
Best
MO
25/03/21
Good afternoon Mark,
Just a thank you really, whilst it takes a little practice, this pen is absolutely superb to write with. I couldn't believe that this pen, any pen actually, could be this good & write so well. Be so pleasurable to use. And considering it is 100 years old, be such a stunner. I'm over the moon with it. The website is also brilliantly laid out & very helpful.
I purchased both Edelstein inks you mentioned and the Jade is stunning in this pen. A perfect match.
I'm truly delighted, and I can honestly say that if I weren't hoping to move home in the next few days I'd have come back for the Onoto as well.
Thank you very much
Warmest
Derek
12/3/21
Hi Mark, My pen arrived this morning and I am so pleased with it. Thank you for changing the filler mechanism. I have been using it this evening, writing a letter to one of my 15 pen friends. It is so comfortable to use and fits into the hand so perfectly (if you know what I mean) l realise it is not my Fathers pen, but my golly, it certainly feels just the same as his. Thank you again for all your work on it. I couldn't feel more thrilled with it. Best wishes to you,
JC.
5/3/21
Hi Mark, I tried the pen this evening and it works perfectly. The last time my mum used this Conway Stewart was in
1955 and I am really thrilled that I can now do the same, so many years later.
Thank you so much for your excellent refurbishment – I think your work is brilliant!
Best regards and grateful thanks,
CF
24/2/21
Dear Helen, My Parker arrived home this morning and I am thrilled to bits.
I just want to thank you for the service, speed and efficiency. I look forward to using it once again and am now
looking for my other school day pen, which I think is a Conway Stewart, nothing like as good as the Parker
but it would be good to have that one working again too. Thank you so much.
DS
24/2/21
Dear Mark
Thank you so very much for mending my two pens. They arrived today and write beautifully.
I'm absolutely delighted.
Best wishes,
SJ
23/2/21
Hi Mark,
Just to let you know the pen arrived safely first thing this morning.
I'm really pleased with it and it writes beautifully. It could easily take over as my favorite writing pen.
Once again and as ever excellent customer service.
Regards TM.
13/2/21
Dear Mark,
The pen arrived today and l would like to say that l am delighted with it , the condition is better than l expected.
I would commend you for the prompt and efficient service , quite often sadly lacking these days.
Regards
BF
10/2/21
Mark,
Many thanks for my lovely 51 which has arrived back safely and is perfect.
You gave been a star in all of of this and I really love the service.
My very best
CCW
5/2/21
Hello Mark,
The Onoto arrived Express as promised, thank you. But I hadn't time to open it until today and I'm delighted with it, a very beautiful pen and a lovely nib! Also, thank you for the advice about the Parker, I think that flushing it out has worked.
So, many thanks again, I am really impressed with your pens and your service. Something to celebrate during these difficult times!
Have a great weekend.
Best regards
DF
2/2/21
Mark
Both my 51's arrived back today looking resplendent and writing beautifully.
I cannot thank you enough.
My kindest regards
CCW
28/1/21
Good morning Mark.
I had a very nice surprise a few moments ago as my Parker Sonnet pen arrived...what glee..! I have already primed the unit and it has taken it's first few lines. Thank you for a fast and efficient delivery service and thank you again for swapping over the nibs. This should assist in me writing more legibly rather than the spider like scrawl it is presently.
Stay safe Mark and keep well, fit and healthy.
Kind regards,
Chris.
10/01/21
Hi Mark, Just wanted to say thank you for the repair on the Montblanc.
It writes smooth as butter now - I think better than when its was new!
I'm very impressed and will definitely go through Vintage Fountain Pens for any repair work in the future.
Cheers, OP
09/01/21
Hi Mark, just to let you know that the Parker 51 arrived today safe and sound .
I am really delighted with it .You did a marvellous job and I am so grateful to you.
I am looking forward to many happy hours of writing .
Best wishes Tom
05/01/21
Dear Mark,
Wow! The Shaeffer Targa arrived safely a few minutes ago. It's absolutely beautiful and writes perfectly - a delight to use. It's a big step up from my old brushed chrome (barrel-less!) Targa, and makes me wish I'd upgraded years ago.
I'm sure it will give me many years of pleasure and use. Thank you very much for your excellent service - I'm so glad I found your website.
Many thanks and best wishes,
Alison.
13/12/20
Hi Mark - the pens arrived this morning, in superb working order, I'm so pleased to have them back.
I cannot thank you enough.
Best wishes for Christmas.
Kind regards
Brian


12/12/20
Hi Mark
Thank you!
Whatever you did to my Watermans pen, it has made all the difference! It writes beautifully now and holds a good amount of ink.
I havent needed to water down the ink as the Diamine inks I use are pretty wet. Love Ancient Copper.
I was concerned, as you referred to the nib as broad, and I had bought it as a fine nib. It is fine, but has superb line variation.
I took it into school and did a demonstration, explaining that a 100 year old pen only writes in a 100 year old style...
I wrote all my Year 6 students' Christmas cards in Copperplate. They were mesmerised and said it was 'sick!' ... which is good!
I am hoping to recruit future fountain pen enthusiasts!
I wish you and your family a very merry Christmas.
Kind regards,
Sarah


6/12/20
Dear Mark,
This is my second vintage pen from you, and both pens (Swan/Mabie Todd and Parker Vacumatic) are a delight - beautifully restored/refurbished and great writers. I appreciate the trouble you take in your accurate and thorough descriptions on the website and the extra information provided upon request, as well as the prompt dispatch and careful packaging. This definitely won't be my last purchase from you Mark!
Lucy

27/11/20
Hi Mark,
Thanks very much. By the way I'm very impressed with your website, best I don't see your pens in the flesh, I could soon be a very poor pensioner.
Thanks again, keep safe.
Best regards,
M A

20/11/20
I spoke to Mark by phone yesterday for some advice on a pen purchase. It was to be a gift for my husband.
Mark was able to guide and advise and I settled on a 'Swan Mabie Todd'.
I expected to wait a few days for delivery, but was delighted to receive the package by post next morning.
He had even put it in an envelope with no identifying information so to maintain the surprise element of the gift.
I cannot recommend Vintage Pens (Mark) highly enough for their knowledge and customer service.
The pen is excellent and exactly matched the description on the very informative website. Thank you!'
A L

20/11/20
Hi Mark
I have just received my pen back.
You have restored it beautifully and just like new. Thankyou!
Its been a pleasure doing business, very fast and efficient.
Cheers
David

19/11/20
Dear Mark
I just received the pen from DHL. Like I anticipated they did charge me the import duty :(
But anyway, the pen is in good condition, and i just tested writing with it, and the moment i wrote the first words, tears started to roll from my eyes.
Its magical and the nib is just so smooth. I cannot imagine.
Within moments it has become my most favorite pen among my collection of 18 special fountain pens!!!
Thank you so much for sending it and I really appreciate it.
I hope to buy a few more vintage pens from you, especially with broad nibs or even mediums that tend towards broad.
Thank you
K D

12/6/20
Hello Mark
The Swan pen arrived this morning. I love it. The nib is fantastic.
Great customer service.
Thanks
Mark L

10/6/20
Hello Mr Catley
Fountain Pen received safe and sound! My grateful thanks for the good work. I can now get on with my memoirs................!
Renie S

10/6/20
Hi Mark,
The Parker arrived yesterday. Just wanted to give you a heads-up: It bubbled nicely when loading and I am using it today - writes wonderfully!!
Thanks so much for your support and services, I am a satisfied vintage user and customer!
All the best
Peter

9/6/20
Hello,
I just received my Parker 51, I just wanted to send you a quick thank you for providing such great quality and service. The pen works remarkably and is in excellent condition. I'll be sure to recommend you to others. Again, thank you.
Best regards.
Ryan

5/6/20
Dear Mark
Apologies for the delay in sending this email but I just wanted to say thank you for a great service (and great pens), as always. I'm loving the pen (the first flexible nib I've bought), it's a great writer!
Thanks again!
Best wishes
Jane
18/5/20
Hi Mark,
Thank you sending out the wonderful vintage pen I ordered from you. Finally I have a pen the writes nicely and the flexible nib is astounding, I wish I had known about them before.
I use it for drawing mainly and the thick and thin lines make line drawings come alive.
Thanks again,
Ian
16/5/20
Thank you for the Shaeffer Targa that arrived in the post today. It's taken me back to my teenage years when I had a similar fountain pen. Sadly it's gone away in the depths of time.
Thank you once again.
Vijay
14/5/20
Mark,
Just a quick note to say the Parker 51 arrived and is absolutely perfect.
My wife bought me a 51 for Christmas from you last year (which I love) and she liked the one I got so much, this one is her birthday present! Both pens have been great and your service faultless. Thank you.
Kind regards
Hugh
8/5/20
Dear Mark,
I wanted to confirm that your parcel arrived this afternoon, with my Parker 51 in Teal Blue with its Lustraloy cap. I tried it immediately and am absolutely delighted. It writes smoothly and with ease, and is a pleasure to use. I already love it.
Forget What's App & Co. A lot of people are going to get hand-written letters from me again in future.
Many thanks to you and your team for a job well done.
Very best regards,
Gillian B,
Mölln, North Germany.
7/5/20
Hello Mark,
My friend received his gorgeous Mabie Todd/Swan pen today. He is thrilled. Many thanks for your excellent service.
I'll forward you his first page of writing with it.
Kind regards and stay well,
Jacqui C
3/5/20
Many thanks, Mark. I am really excited about my new pen. I'll let you know when it arrives.
I moved house a few years back, and my much-loved and really ancient Parker 51 in battleship grey with a beautiful smooth and characterful nib somehow got lost. I have since turned out every drawer, and searched high and low. It has never turned up. I had it since my first day at Dartford Grammar School for Girls in 1958. It was part of me, and I loved it dearly. I was really sad at my loss.
Consequently, I was absolutely delighted when I found your website, and saw that you and your colleagues obviously love the products you sell. I knew the time had come to splash out on a new Parker pen, and recapture my youth and childhood!
Best regards,
Gillian B,
Mölln, North Germany.
1/5/20
Thanks Mark.
I received the pen this afternoon.
It's writing very well and it's nice to see the pen that my father used for many years after WW2 is still very usable.
Ian
13/4/20
Mark:
Just to say that my pen is transformed and writes beautifully, even if my handwriting does no justice to it.
Many thanks and have a Happy Easter in these unusual days.
Tim
7/4/20
I have just received pen and I am delighted with it. Thank you for your prompt service and I'm sure we will be doing more business in the future.
Yours sincerely
T W

2/4/20
Hello
Received the pen,excellent, it has been a pleasure dealing with you.
Malcolm.
2/4/20
Hello Mark,
Just want to say I have received the mended pen and pencil and I am delighted with them. I had forgotten how smoothly the pen writes. It is so lovely to have them working and not just sitting about in a box. Thank you for all your hard work in what was obviously a difficult job.
Kind regards,
FB
30/3/20
Dear Mark,
Thank you so very much for mending my pens. I am delighted to have them back so soon!
All good wishes, Nicky.
6/3/20
Hi Mark
Thank you for getting back to me. I'm delighted that the pens were of interest to you and am pleased to accept your evaluation of £263.00.
Thank you for your courteous and professional dealings.
Regards
Liz
11/10/19
Good morning, just a short email to express my thanks for the efficiency and speed of your service.
The ink sac arrived midday yesterday, about 24 hours after placing the order.
Incidentally I am a return customer, I have bought nibs from you in the past. They are still writing well.
Regards
Ken L
17/02/19
Thank you so much for the work on both my pens I am really pleased
and would not hesitate to recommend you to anyone enquiring re pens
Christine H
17/01/19
Hi Mark,
Thank you. My late Father had one of these but, it has been irretrievably damaged and I want to replace it. He used it everyday as I have done since he passed. It's a beautiful pen to write with.
Best wishes,
Dawn
17/1/19
Hi Mark ,pen arrived today, it is perfect many thanks for a
great job. Take care and have a great 2019.
Kindest Regards
Barry
21/11/18
Hi Mark,
Many thanks once again!!
I received my Parker 51 today as promised, and it performs perfectly.
I will keep watching your website and I have no doubt I will be in touch with you again in the future.
Kind regards
Graham
11/10/18
Hi Mark, thank you for a brilliant service. Within 24 hours my Conway 58 is writing again!
Best regards
Stewart
10/10/18
Hello Mark,
I made my first visit to a Pen Show at the recent London event and was surprised at just how popular it was, and with so many exhibitors. I was pleased to meet you, and you were kind enough to ' tweak ' the nib of my Conway Stewart which was apparently a little crossed and not writing as good as I had hoped after fitting a new ink sac supplied by yourself. Now it is fine, and glides across the paper just as it must have done nearly 70 years ago when purchased by an Aunt of my wife.
Best wishes,
J P
5/101/18
Hello Mark,
I received today the Burnham pen ordered for my friends birthday, it is lovely & arrived safely in good condition.
Thanks again for a smooth ordering process and speedy dispatch.
Kind regards,
Jane
16/7/18
Hi Mark,
Pen arrived today, just tested it and it is marvelous, destined to become a favourite !
Many thanks and all the best,
Andrew
11/7/18
Hi Mark,
Just a quick note to tell you how pleased we are with the pens we received back today following repairs and overhaul, the results were even better than we expected.
With many thanks,
Keith Johnson.
20/6/18
Hi Mark
Pens arrived safely today and I'm really pleased with both items. Just to say thanks for the excellent customer service and I'll certainly keep an eye on your site in the future for new arrivals.
Regards and much appreciated,
Tommy.
7/4/18
Hi, Mark,
Pen arrived this morning - and I've been using it for most of the day. It is absolutely fantastic - writes so smoothly and the line width is just perfect for my type of handwriting. Having examined it carefully, I think I can now see what a 'fine' nib should look like!
Anyway - once again, many thanks for creating a really superb pen for me! Your skill is much appreciated.
Best regards,
Adrian G
10/2/18
Dear Mark,
My order was delivered earlier this morning, and I would like to thank you for the impressively fast turn around you have provided. This is real ' old fashioned service' not often encountered nowadays and I hope I may be able to use Vintage Fountain Pens again in the future. I managed to fit the ink sac without too much difficulty, so an old favourite pen can now be used again.
Thank you,
JP
17/1/18
Hello Mark, Just to let you know the pen arrived safely at about 9.15 this morning.The replacement cheque is in the post. Absolutely excellent VERY speedy service ,would have no hesitation in recommending you. Very best wishes
JW
16/1/18
Thank you, Mark.
Your first class service has promptly produced a first class pen. It is in quite extraordinary condition, and I can't wait to sample its performance. Despite the undeniable convenience of email, which I find myself increasingly drawn into, I still maintain that nothing can beat a hand-written letter. So the Conway Stewart will be well used, taking me back, as it does, some 68 years to the proud possession of my first fountain pen. Should have kept it! But now so pleased to have at least its cousin!
Sadly these purchases are not everyday occurrences, and if they come at 68-year intervals, you may not hear from me again. But be assured of my goodwill, and delight at the satisfaction you are bringing by retrieving these ancient, quality instruments to an enthusiastic public.
All the best,
Dennis
6/11/17
Dear Mark,
I wanted to send you an email to thank you for the work you have done on my pens. The parker 51 Vacumatic pen that I was so upset about the condition, it's mis-aligned blind cap and bent clip from a previous attempt of repair by someone else, is I am delighted now reunited with its matching pencil and safe in its parker leather case.
As I told you it is in a BBC photo of my aunt from the 1950s and I could not be more delighted to have the pen pencil and case from the photo all looking good again. The case was in a poor state so I have un-picked all of the stitching and relined it with new leather and remade it and it now also looks almost new. It took me many hours but to have it complete as in the photo is very pleasing as this set is so special to me I will probably only use at home as I would not want it to get damaged but I am very grateful to you for rescuing this pen.
The other two parker 51s also now are nice to use and I will be able to have more pens on rotation for daily use I tend to use a pen for two or three weeks then empty the ink and flush the pen with warm water until the water remains clean I hope this is the best way to keep them in good condition, when in use I keep the pen in a leather case in my jacket pocket also I hope the best way to preserve the condition.
The two Vacumatic pens with the striped finish now also work that's pleasing I hate to have things that don't work and will use them at home to see how I get on with them and am grateful to have them now in working order.
I have a marbled parker Vacumatic pen and pencil the set are very nice looking but the pen does not work I think it will need to be serviced and a new diaphragm and may need the nib sorted out and the pencil has no leads I have ordered some leads I hope the correct size and will try to get it to work but if I can't will send both to you with a parker 51 pencil with fine rings on the lower part of the barrel that I think works the same way I will see when the leads arrive and let you know what I am sending you before I send them I hope this is ok with you. I have loads of other vintage pens and pencils that I don't know what to do with as I am finding it difficult to identify them so I will try to sort out the best and send them to you for you to see if they can be fixed if that's ok with you.
Thank you again for the pens you have repaired for me it's much appreciated.
AG
13/10/17
Mark,
Pens received in good order inked and are very fine examples- ref the Vacuumatic I was very pleased with it indeed - I have to say only my 51 Flighter Aerometric sets the bar higher in the feel of nib on paper.
Regards
Rob
26/7/17
Dear Mark,
The pen arrived safely today. I am thrilled to bits with the italic type nib replacement - just what I have been searching for for a long time. It is fabulous to write with. Thank you for your fine detail.
Kind regards,
Marjorie.
19/07/17
Thank you, Mark, pen has arrived and looks and writes great. Another great job at a very reasonable cost.
Kind regards, Julio
25/3/17
Hi Mark,
The Swan arrived safely today. Amazing that it was sent out on Monday and flew half way around the world to arrive here on Friday! The Swan is gorgeous and I look forward to using this for many years to come. Thank-you again for a great product and absolutely pleasant transaction!
All the Best.
James
20/3/17
Hi Mark,
Pen arrived today. I needed a pen with a very fine nib and this fits the bill perfectly. I have to say that at the price this pen is excellent value, the piston filling is solid and I'm sure the pen will last for years but then as you say, it was made for students by Montblanc ! Many thanks as usual.
All the best, Andrew.
2/3/17
Dear Mark,
Just a brief note to confirm that I received the Conway Stewart pen yesterday. Many thanks for shipping it so promptly. This is my first Conway Stewart pen. It is truly lovely and writes beautifully. Very smooth and elegant.
Your artistry in restoration is clearly evident.
Kind regards,
Dana
24/2/17
Mark,
Once again a wonderful job. Your words: 'One of the tines was bent upwards and both were bent to the side – the worst combination and quite tricky to rectify'. However, you succeeded splendidly, restoring the nib of this vintage Caran d'Ache, where other connoisseurs had killed all my hope. It writes perfectly and I am truly pleased; thank you very much!
Saskia, Amsterdam
16/1/17
Hi Mark.
I received the pen today. If there is any way I can review your excellent service online, please let me know. The pen is excellent. Your service even more so.
A pleasure doing business with you Mark. Thank you very much.
Kind Regards.
Mohammed.
25/10/16
Thanks Mark for a very quick delivery, just arrived and filled it right away with Mont Blanc Royal Blue, the pen, considering it was made in the seventies, wrote from the start with no skips and no problems, quite surprising for an extra fine nib such as this!
I am happy with the writing example I did. I am very pleased with the order, thank you again.
Regards.DS.
19/10/16
Hi Mark,I just received my fountain pen and matching propelling pencil. I am delighted with them! The fountain pen writes beautifully and is bringing back happy memories of my first pen collection. In my youth, I had a number of lever action fountain pens – always my favourite. Unfortunately that was a long time ago and I don't know what became of them. Hopefully they found their way to someone like you that restored them.
I promise to take greater care of these! Many-many thanks.
Malcolm.
I ink therefore I am!
14/10/16
Hello, Mark,
The two Waterman's nibs arrived today. I replaced the Warranted nibs of my unknown makers' eyedropper filler pens with them, and it changed totally their character.The smoothness is incomparable. And it's very exciting to see how expressive the lines are that the Waterman's italic and stub nibs produce. It's like the pens got finally their true lively lives that were hidden so far. I am completely satisfied. Thank you very much for selling them, and for your prompt shipping.
Sincerely,Yoshihisa Hirata (Japan)
13/10/16
Hi Mark, Pen received to-day with thanks. Great job!
Regards,
Carl
9/8/16
Hi Mark,
Pen arrived yesterday - but so did the Grandkids! Have been writing with it this morning - the nib is absolutely brilliant for me - smooth and a real pleasure to write with. Thank-you very much, once again, for doing such a great job. That could be all for now - probably! I've picked up two more from e-bay. The Black Aero has cleaned up well and writes superbly, if rather thickly, but I can live with that. My Teal Aero turned out to be a Demi - and it is a real cracker - on the fine side but smooth and wet.
Best regards,
Adrian
7/8/16
Hi Mark,
All arrived and all fits. Delighted. Thank you for the tips and excellent service.
Heather
7/8/16
Dear Mark,
I can't tell you much pleasure it gave me to open the smart red box and find my father's old DP Manifold fountain pen so beautifully restored and working perfectly. I wholeheartedly agree with your handwritten comment, 'What a bargain' for £25. I would happily have paid twice that - indeed, would you like me to send you a supplementary cheque? I suspect you would say "no", but what I will do is spread the word about the splendid service you provide, dropping the news lightly into after-dinner conversations when we have friends round, button-holing other fountain pen users whenever I spot them and, of course, I shall look no further whenever one of my other pens needs attention. Most of all, I feel I'm back in touch that little bit more with a fine man, his neat handwriting and his loving and thoughtful ways. Thank you very much indeed.
Astley
26/7/16
Hi Mark,
Just to let you know the Conway Stewart 388 arrived safely today. Many thanks - a lovely little pen, just what I was hoping for! Thanks again.
Huw
24/7/16
Hi Mark,
Thank you so much, I'm delighted with my pen, money well spent! I'm on a mission to get some ink now as I've written it out already, all I need now is a day off work...Thanks again!
Best wishes,
Julia
15/7/16
Thank you Mark for mending my 53 year old pen! I did my A levels and College exams with it, and married the man who bought me the pen some 40 years later! Every pen has a story!
M M
2/7/16
The pen is superb, and delivers a variety of flex from very fine to BB without any scratchiness because of the excellent nib and feed. Thank you for your excellent service without which I could not have changed my order to something better for me. I feel that I could buy from you in the future - with complete confidence.
Dr S T
2/7/16
Hello,
I thought I should write you a quick thank you. The pens came yesterday and are looking great, I honestly hadn't expected the two Onoto's to look so good cleaned up! They write very well too. All in all I'm very happy with the job you did for all three pens and wouldn't hesitate to use you again in the future. Thank you!
Sam
24/6/16
Hi, Mark,
My pen arrived this morning - thank-you very much for sorting it out for me - I'm very pleased with it.I'm sure I'll be in touch again at some point soon!
Regards,
Adrian G.
17/6/16
Hello Mark,
The pen arrived just now. The shipping is surprisingly rapid. The pen is gorgeous. It produces special visual effects of light reflected on gold filled spiral relief. I cannot stop rotating it to see the twinkle. And it writes very well with a nice flexibility.This will be among my treasures. Thank you very much.
Sincerely,
Yoshihisa
15/6/16
Thank you very much, Mark. Great service as well as great website!
Best Regards, Maxim.
10/6/16
Dear Mark,
Just a quick thank you for my new Parker 51. It is now in daily use and performs very nicely. It is in "as new" condition so far as I can tell. A pleasure to write with.
Kind regards, Ken
19/5/16
Hi!
The Sheaffer that I bought from you is one of the best purchases I have ever made. I write a lot and love pen and ink. You simply cannot get a better or more comfortable satisfaction than with writing with this pen. Simply Superb!
Appreciatively, Richard.
18/5/16
Hi Mark, The 51 arrived today. What a beauty, superb nib, now my favourite pen !!!
Many thanks. All the best,
Andrew
14/5/16
Hi Mark,
The pen arrived safely this morning and I am very happy with the condition and quality which is a steal for me. Thank you for the great personal service and answering all my questions and I wish you well.
Regards,
Josef
17/2/16
Hi Mark, hope you are well, thanks for swift delivery of the pen set. Superb as usual !!!!
Cheers,
Wayne
12/12/15
Hi Mark,
Just a quick note. Pen just arrived. Many thanks for the fantastic quick service. Pen is wonderful. Genuinely an iconic piece of the 1930's. Will get lots if use. Wishing you well for the up and coming new year.
17/11/15 - (this one made me laugh!! - MC)
Dear Sir, I have received the pen today. I did a dance around the room after I flushed and inked up the pen. The nib is very nice with the perfect balance of smoothness and feedback. Some curvy side strokes are scratchy and catches paper but I guess it due to my writing angle. I smoothed the sharp corners very very slightly and its now perfect. Thank you for the nice deal and it is exactly as described. Very nice buying experience.
With best regards,
AC, Singapore
5/11/15
Hi Mark,
Just to say you've done a fantastic job and I'm delighted with the pens and the new nib!
Thanks very much,
Nick
8/6/15
Dear Mark,
When I sent my old Sheaffer pen to you I never expected to receive a beautiful pen back. The service was excellent and I cannot thank you enough. More power to your elbow, and I wish you every success in the future. You turned my sows ear into a silk purse, thank you again.
Ann
7/6/15
Hi Mark,
Got the Conklin today and my first experience of it is just WOW it really has superflex. It's the kind of nib I've been hoping to find for the longest time. Thanks very much for the excellent service too.
Kind Regards
Eva
6/6/15
Hi Mark,
What a beautiful repair! Pen has just arrived in the post and it looks fantastic - thanks for doing such a lovely job.
Best wishes,
Nigel
19/4/15
Dear Mark,
Yesterday I received the '51'. Well, what can I say! It is a real beauty! If you order from a picture there is always an uncertainty of how the product looks and works in reality. But the Bordeaux red shaft as well as the golden cap are exactly what I hoped! And it writes so smoothly, just like I want it. Magnificent! I am very, very happy with the pen, also because the '51' has a special meaning for me. Fountain pen lovers, like you, know that many pens have stories and meanings. I am not a real collector – an expensive activity! – but I have a few Parkers, all with special meanings.
Maybe you like it when I, as a customer of yours, tell you about my pens. I have the following - Parker 75 sterling silver set, fountain pen, ball point and pencil. A great set, from my girlfriend for my birthday in 1972.- Duofold, blue, from my wife for graduating from the university in 1987. Not an original one from before the Second World War, but a remake. But a wonderful pen.- Gold plated Sonnet, from my mother in 2004.- Vacumatic, with the blue diamond, original model, a set with a pencil from 1939. I got it from the daughter of a friend of my grandfather in 1997. The filling system doesn't work anymore, which is a pity.- And then the 51! I always admired that model from when I saw it for the first time in the sixties. An older friend and neighbour of mine got one, blue, from his parents for graduating from secondary school in 1962. That small point attracts me much. My own parents knew my admiration for just that model and three years later, now exactly fifty years ago, they gave me a 51, a blue/green one, when I graduated from secondary school for myself! About ten years ago I lost the pen! A very sad moment. But a few years later a two years younger brother of mine who knew from the past my love for the 51 offered me the special edition from those years, the blue one!!! Two years later he died. So you can imagine what that 51 meant for me. Last week the pen fell on the ground and broke. You cannot screw the short shaft on the large one anymore, so I cannot use it now. So sad… That's why I absolutely wanted a substitute. And now I got that beauty from you with a special thing that it was made in … 1965 I read! So this pen is still now very special for me. A rememberance of my friend who showed me the model for the first time, of my dear parents who gave me the first 51, of my beloved brother who offered me the second one and of 50 years graduating from high school in 1965, the year the pen was made!! What more can such a dead thing like a fountain pen mean for someone? You can imagine that I will be very careful with this one and I hope to write with it for many years!
Well, Mark, this was a small story as many fountain pen lovers will have. I hope that my English was good enough for understanding it. With very kind regards and thank you very much for the beautiful Parker 51!!
Hans